Flavours Chart Reading
Information and advice to improve decision-making skills
Receive an audio file with a customised complete explanation of your Decision Flavours Chart Results within three days
Haven't taken the quiz yet?
Run it here 
• Strengths and weaknesses in your decisions
• How to read the Flavours Chart
• Strategies to boost and complete the Flavours
• Advice applied to specific domains like relationships, career and
health among many others
• Results recorded in English, French or Spanish at ease
Get your free results chart here before requesting your reading
Learn

The Flavours describe how we perceive reality, the freedom and framework of our beliefs and actions
Transcend

The Flavours Chart Reading gives advice on how to complete our personality and find answers beyond what we thought was obvious
Decide

The Flavours Chart Reading includes advice on career, relationships, life purpose, true self or other areas upon request
How it Works
• The Full Chart Reading is a short audio file sent by email that includes a report by founder Ariel Guerra himself with hints to complete the chart.
• Flavours are personality traits. We all have the four Flavours in us, but it is the proportions between them that shapes our unique personality and our connection with reality.
• The free Flavours quiz determines the proportions between the four main traits (for more information about where the Flavours come from, read this article)
• The Flavours evolve based on our new decisions and habits. By running the quiz regularly we measure the improvement of the chart until we complete it and obtain a fifth flavour called Diviner.
• The Full Chart reading can be requested as often as desired and empowers you to master optimal decision-making over time.
By registering to this Blast activity, you agree with our Terms & Conditions and Disclaimer.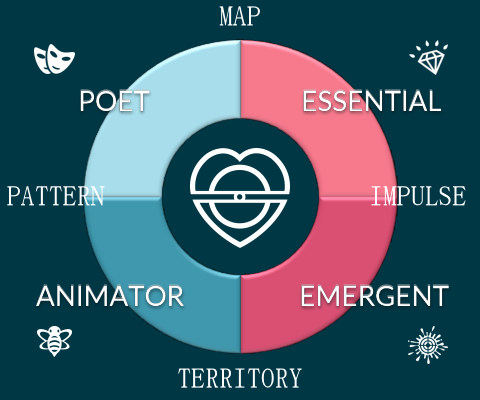 The Source of Flavours
The crossing of two scales determines the proportions and interactions between the flavours
ORDER
• Delivery by email within 72 hours
• 100% Satisfaction
• 14-Days Money-back Guarantee
• Payment secure with credit card or bank transfer
Ariel Gustavo Guerra