Thirty years to build a language is nothing, just the beginning of a long exploration. It's beautiful to see that the first celebrated milestone of this long journey is a set of cards. The birth of Sonic Wisdom from the Stars was essential to bring these otherworldly sounds, symbols and language to life.
Our first oracle deck started to reveal itself on the mythical island of Milos in Greece, eventually finding form over the course of two very intense weeks travelling between Hong Kong and Bangkok.  
What about the cards
A visible magnetic band on the back of each card enables it to quickly and powerfully charge and discharge itself, making it easy for multiple people to use the same deck without energetic interference, or to set a particular signature of our own.
Each card includes a glyph, an IPA (International Phonetic Alphabet) translation, an introductory explanation and use of the glyph, a fun keyword highlighting the syllacode's meaning and pronunciation, an affirmation, and a link to a specific webpage with more information for the use of the card.
The deck comes with one additional guide card, Aksu (Ar-Go-Sw), which sets a specific pattern in motion with an invitation to pull three cards for a specific purpose: harmonising the relationship between our personality, our identity and life events. I use three decks shuffled together, to be able to pull a same card more than once in a session. Artists, healers, shamans use 10 of these decks together to arrange intricate patterns, or assist many people at the same time during group sessions.
The syllacodes aren't only designed to be uttered individually. They can also be used for complex intentions, just like mantras and poems, with the ability to create our own. We have listed and even composed recitations and songs as a way to explore its cultural and natural impact in us and in those who enjoy the gigs.
The deck is sleek, thin and light – only 12 fundamental cards in a protective satin sheath – in honour of a love for travel, the university of life. 
Rolling up our sleeves
We shared hundreds of moments with interesting people around the world. We used the cards in private sessions and tested them with others, in Prague, Paris, Berlin, Ibiza, Athens, Bali, New Zealand, Philippines, Brazil, USA, UK, Denmark, Sweden, Switzerland and more. While healers pulled the card GO and B¨ 80% of the time, most bankers pulled Ah, and a staggering amount of people in the show business pulled Dy, to name a few stats. This information revealed an amazing correlation between the syllacodes and real events. It helped us also adjust and complete the questionnaire for the Weave quiz, available here. But that is food for another anecdote.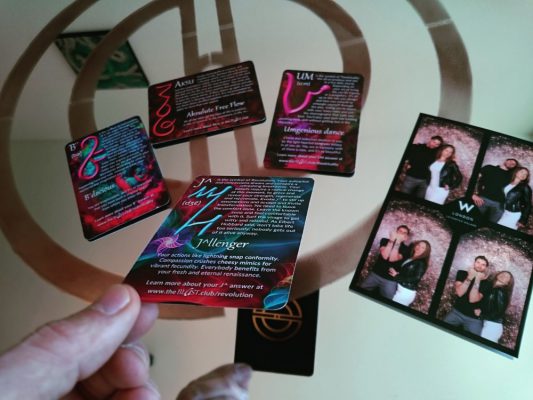 When applied, the impact has been almost immediate. "I feel that people notice my presence, I get compliments" and "people respect my opinion way more than usual", Nathalie and Sakina remarked after we performed all the sounds. "I feel calm", "I slept like a tree", said David and Armand the day after the session. "Pulling a card intuitively is a playful way to know what's missing in us that the rational mind couldn't spot".
Jennifer has memorised the deck and loves using the cards as affirmations and for daily inspiration.
How do they work
If the cards could explain for themselves, they would say:
"We are a poetic yet effective tool to align your life with your essence."  
"Each one of us presents an aspect of you that deserves attention and ignition. By gazing upon us, pronouncing our name, reading our profile or even running your finger over our shape, you activate our power in you."
"We are not here to tell your fortune, or even to tell you what to do. We are here to ignite what you already know, to kindle the fire of your deepest desires and help you be you."
Mantras, Gregorian chants, icaros, awens and keenings – there have always been human beings emerging the art of distilling the sacred out of the worldly. Sonic Wisdom cards were born in the informational age and their intent is to help us continue our research while contributing to this culture and building transparent foundations during our tiny passage on Earth.
B¨ar Goelsw Elar!
Thanks Enzo for the advice, here is the link to the cards: